Lipton Tea is a brand of tea currently owned by Unilever. Thomas Lipton, a grocer in Glasgow, Scotland, founded the Thomas J Lipton Company, a tea packing company in Hoboken, New Jersey, US, in 1893. He was knighted in 1898. The Lipton grocery chain merged with Home and Colonial stores in 1929, which became Allied Stores in 1961. Allied Stores was acquired by the Argyll Group in 1982, and was rebranded as Presto. The Lipton tea business was acquired by Unilever in stages between 1938 and 1972.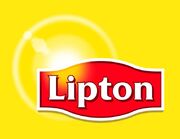 Lipton teas include black and green teas, flavoured tea, Herbal Teas, iced tea and other varieties.
External link
[
]
The company website is at www.lipton.com/gb_en/. A site specifically geared to United States customers is at www.liptont.com.