See also Black tea at Wikipedia.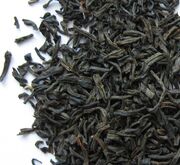 Black tea is a common tea made from the plant Camellia sinensis.
Black tea is fermented oxidised more than green, white, and Oolong tea giving it a dark colour. It can be very bitter if the leaves are steeped in the hot water too long.
It can be consumed with milk and/or sugar, or with a slice of lemon.
Generally, unblended black teas are named after the region in which they are produced. Often, different regions are known for producing teas with characteristic flavors.
Tea
Hanzi
English
Origin
Source city
Source region
Source country
Description
Tanyang Gongfu
坦
Tanyang
Fujian Province
China
The king of the Fujian Artisan Red Teas. One of the three Famous Fujian Reds.
Zhenghe Gongfu
政
Zhenghe County
Fujian Province
One of the three Famous Fujian Reds, with a slight honey flavor.
Bailin Gongfu白琳功夫
白
Bailin
Fujian Province
One of the three Famous Fujian Reds.
Zhengshan xiaozhong (Lapsang souchong)
正
Mount Wuyi
FujianProvince
Dried over burning pine, thereby developing a strong smoky flavour.
烟
Yin Junmei
银
Silver Steed Eyebrow
Mount Wuyi
Fujian Province
A higher grade version of Zhengshan xiaozhong (aka. Lapsang Souchong)
Jin Junmei
金
Golden Steed Eyebrow
Mount Wuyi
Fujian Province
One of the highest grade red teas in mainland China.
Keemun (Qimen Hong)
祁
Qimen
Anhui Province
China Famous Tea. The aroma of tea is fruity, with hints of pine, dried plum and floweriness.
Dian Hong
滇
Yunnan Province
Well known for dark malty teas and golden bud teas.
Ying De Hong
英
Guangdong Province
The tea has a cocoa-like aroma and a sweet aftertaste, one can find a peppery note.
Jiu Qu Hong Mei
九
"Nine Winding Red Plum"
Hu Fou district
Hangzhou
Zhejiang Province
This tea is characterised by tight fishhook-like leaves with a lustrous black color. The infusion is brightly reddish and has a long smooth aftertaste.
Sun Moon Lake
英
Sun Moon Lake
Nantou County
Taiwan
Honey rich tones, sweet osmanthus, cinnamon and peppermint.
Tibeti
藏
Ya'an
Sichuan Province
A unique tea that can also be called brick tea; it is well known as "Tibetan tea" for centuries.

---

Assam
Assam
India
Full bodied, strong and distinctively malty tea from the lowlands of Assam.It is the highest produced tea in the world
Darjeeling
West Bengal
Thin bodied, floral and fruity tea from Darjeeling with defining muscatel tones. Today often processed as a mixture of black, green and oolong elements, though still classed as black. Many consider it to be the best black tea in the world, because of its unique spice.
Munnar
Kerala
Kangra
Himachal Pradesh
Nilgiri
Tamil Nadu
Intensely aromatic, strong, and fragrant tea from the Nilgiri Hills of Karnataka, Kerala and Tamil Nadu.

---

Ceylon
Sri Lanka
It is grown on numerous estates which vary in altitude and taste. High grown tea is honey golden liquor and light. These teas are perfectly rounded. Low grown teas are a burgundy brown liquor and stronger. Mid Grown teas are strong, rich and full-bodied. Commonely pure Ceylon tea blends are considered as the finest and the best black teas in the world because of its colour, aroma and taste.
Note: This is a generic section  stub. Expand it by clicking

 [edit] to right of the section title.
Note: This is a generic section  stub. Expand it by clicking

 [edit] to right of the section title.
Community content is available under
CC-BY-SA
unless otherwise noted.